Wolves on the Wall
is a
Boss Challenge
that is part of the
A Crow in the Snow
storyline.
---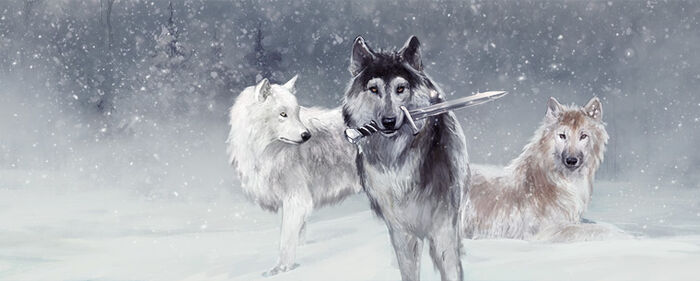 Characters
Rewards
Initiation
Prize
Coin
200 - 300
Participation
Prize
Coin
100 - 200
Ranking
| | |
| --- | --- |
| 1st Place | |
| 2nd Place | |
| 3rd Place | |
Challenge
Part 1: The Wind
Only a few yards up, Gammer's claws slip. The wind is cold and biting, ruffling her fur and threatening to toss her from the Wall.
The higher Gammer goes, the stronger the wind gets. But she is determined to reach the top...
Part 2: The Wall
More dangers await as Gammer and the wildings climb. Huge pieces of ice begin to break off the wall and fall towards them.
Even deadly ice cannot stop the wildlings in their quest to mount the Wall. Gammer continues up behind them.
Part 3: The Fall
Suddenly, Gammer hears a piteous whine. The white wolf and his female companion are slipping on the ice, paws flailing.
The white wolf and his female manage to keep their grip. But will they make it to the top?
Result

Required Points: 40,050
Ad blocker interference detected!
Wikia is a free-to-use site that makes money from advertising. We have a modified experience for viewers using ad blockers

Wikia is not accessible if you've made further modifications. Remove the custom ad blocker rule(s) and the page will load as expected.