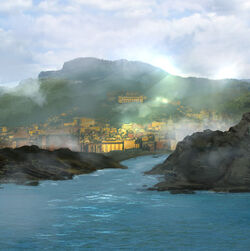 The White Knife is one of three locations that an Alliance can build a Camp within the North during Alliance Vs Alliance conflict.
The White Knife is a major river in the North. White Harbor sits along the mouth of the White Knife where it meets the Bite.
Adventures at the White KnifeEdit

Send the Sistermen Home


Trouble at the Lazy Eel

Keep the Low Games Fair (Night)


Defend Riverfolk Traders
LandmarksEdit
Ad blocker interference detected!
Wikia is a free-to-use site that makes money from advertising. We have a modified experience for viewers using ad blockers

Wikia is not accessible if you've made further modifications. Remove the custom ad blocker rule(s) and the page will load as expected.