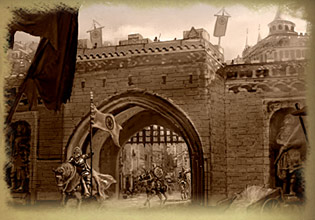 Walk of Punishment
All houses must face dark times. Help yours weather the storm as you meet new allies, face old demons, and learn why a flayed man knows no secrets.
Goals
Bonus Goals
Complete 500 quests
Have a Sworn Sword at rank 30 or above
Collect 200,000 total silver from the Counting House
Rewards

Bonus
Honeycakes
All Quests
Required Quests
These quests must be completed to progress to the next Chapter.

Some are born to rule, others born to follow. Are you a noble of honor, or ambition?
Ad blocker interference detected!
Wikia is a free-to-use site that makes money from advertising. We have a modified experience for viewers using ad blockers

Wikia is not accessible if you've made further modifications. Remove the custom ad blocker rule(s) and the page will load as expected.