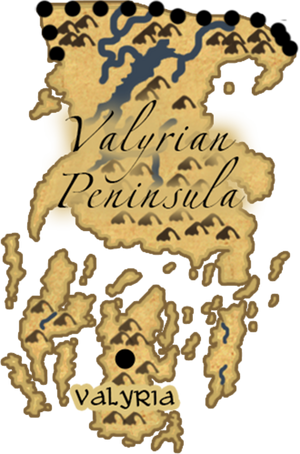 The Valyrian Peninsula is a large land extending south from
Essos
into
the Summer Sea
. It was the heartland of the
Valyrian Freehold
and the location of the city of
Valyria
.
The Fourteen Flames
extend across the neck of the peninsula. The peninsula was partially destroyed in the
Doom
four hundred years ago. Many islands were formed and low-lying areas were flooded, creating
the Smoking Sea
.

Featured In

Visions of Old Valyria


Valyria Reborn

Landmarks
Places
Roads
Settlements
Pages in category "Valyrian Peninsula"
Ad blocker interference detected!
Wikia is a free-to-use site that makes money from advertising. We have a modified experience for viewers using ad blockers

Wikia is not accessible if you've made further modifications. Remove the custom ad blocker rule(s) and the page will load as expected.