A common (and annoying) problem I found is that after starting a Boss Challenge you no longer have access to the invite link, so if you forgot to copy it or accidentally invited friends before copying it, it's lost.
Unfortunately I couldn't find how to recover it in the wiki. This is going to change now...
This is a guide for recovering Boss Challenges' links using the Google Chrome browser
I use chrome as I found that the game runs best on it (at least for me)
The added bonus is that the Chrome DevTools are easily searchable.
Guide
1. Go to the correct chapter
2. Enter Chrome DevTools
There are two easy ways to do this:

press the

F12

key
press the right mouse button anywhere over the game window and choose "Inspect Element"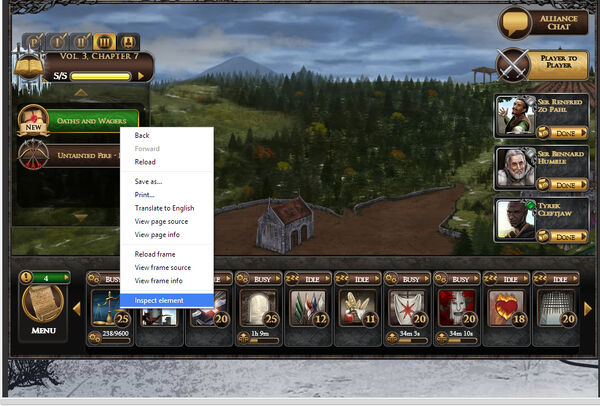 The following screen should look something like this: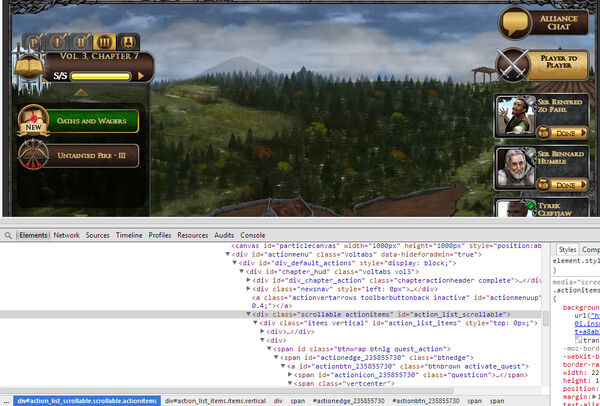 3. Search for "actionedge"
To enter search mode, press

Ctrl-F

Then enter "actionedge" (without quotation marks)
There will be as many "actionedge"s as there are quest links, to find the correct one just hover over the line - a box will appear over the respective quest link. if that's not the correct quest search for the next "actionedge" (using the down arrow next to the search at the bottom left).
when you hover over the correct line a box should appear over the correct Boss Challenge (see image)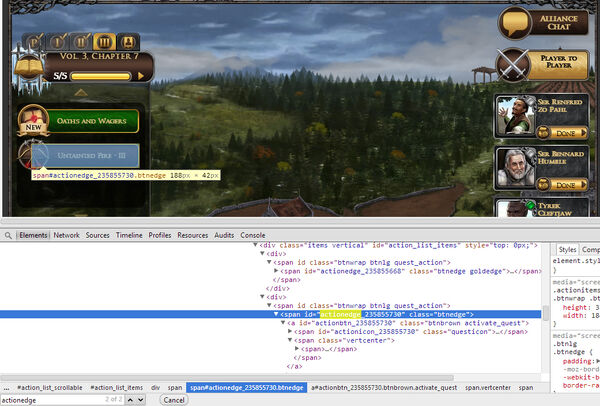 4. copy the number that appears after "actionedge"
5. Create invitation link
To do this add the number you just copied after the following link:
On Kongregate:
http://www.kongregate.com/games/DisruptorBeam/game-of-thrones-ascent?kv_origin=/play/join_quest/
On Facebook:
https://apps.facebook.com/gamethrones/play/join_quest/
not sure about the other platforms but in any case you can use a posted link and just change the number
Ad blocker interference detected!
Wikia is a free-to-use site that makes money from advertising. We have a modified experience for viewers using ad blockers

Wikia is not accessible if you've made further modifications. Remove the custom ad blocker rule(s) and the page will load as expected.