Under the Dragon's Nose
is a
Boss Challenge
that is part of the
Sellsword's Surprise
storyline.
---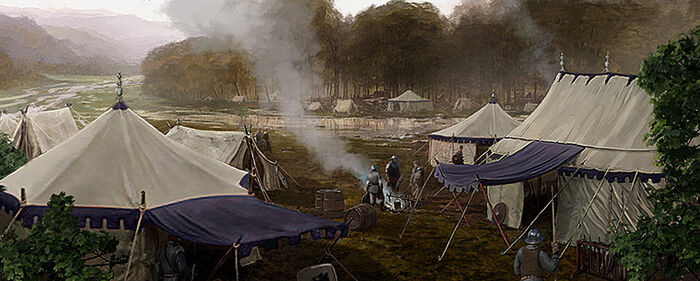 Characters
Rewards
Initiation
Prize
Coin
200 - 300
Participation
Prize
Coin
100 - 200
Ranking
| | |
| --- | --- |
| 1st Place | |
| 2nd Place | |
| 3rd Place | |
Challenge
Part 1: By Stealth
"Lead the way, Braavosi," Daario says, pushing Olene forward. "And do not dare scream."
| | | |
| --- | --- | --- |
| Aid | Spy | Swindle |
| Hide Behind Carts | Follow Quiet Path | Make Idle Talk |
Olene and Daario are inside the camp. What is their next move?
Part 2: In Plain Sight
Daario juts his chin at some of the Unsullied, bathing by a fire. "Their armor. Find a way to get it for me."
Daario quickly puts the armor on, disguising his true identity from the camp.
Part 3: The Prize
"Now, the Khaleesi," Daario whispers through his stolen helm. "Get me in her tent, and you are free."
Olene has led Daario to the Khaleesi's tent. Will he keep his word?
Result
Daario Naharis has reached the Khaleesi's tent undetected. He looks back at Olene, grinning. "Many thanks, Braavosi." He slips inside.

Required Points: 49,500
Ad blocker interference detected!
Wikia is a free-to-use site that makes money from advertising. We have a modified experience for viewers using ad blockers

Wikia is not accessible if you've made further modifications. Remove the custom ad blocker rule(s) and the page will load as expected.