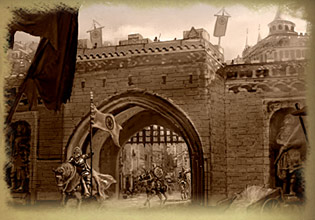 Two Kings, One City
The war for the Iron Throne may be decided in the Battle of Blackwater, the biggest conflict yet. Sharpen your sword and prepare to fight for your king.
 Goals
 Bonus Goals
Collect 150,000 total silver from the Counting House
Produce 400 rare or better weapons, items, or units
 Rewards

Bonus
Wildfire
 All Quests
Required Quests
These quests must be completed to progress to the next Chapter.

Five kings began a war. Four still rule. Can you watch them all?
Ad blocker interference detected!
Wikia is a free-to-use site that makes money from advertising. We have a modified experience for viewers using ad blockers

Wikia is not accessible if you've made further modifications. Remove the custom ad blocker rule(s) and the page will load as expected.