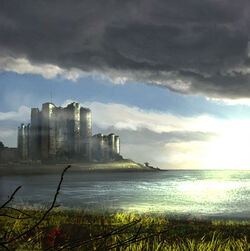 Torrhen's Square is one of three locations that an Alliance can build a Camp within the North during Alliance Vs Alliance conflict.
Torrhen's Square is a castle in the North located southwest of Winterfell, near a large lake. It has stone walls thirty feet high with square towers at each corner and a square keep. It is considered a strong keep, but not the strongest.
Adventures at Torrhen's SquareEdit

Stop the Wildling Raid


Find the Deserting Crows

Save Wounded Soldiers (Day)

Stop Highway Robbery


Resupply Torrhen's Square
LandmarksEdit
| | |
| --- | --- |
| The Rills | a region in the North located southeast of the Stony Shore, north of Blazewater Bay, and west of the Barrowlands. Its name suggests the area has numerous streams and brooks. |
| The Wolfswood | a large forest in the North named for the great many wolves one can hear howling in the night. Weirwoods are occasionally found isolated or in pairs. |
Ad blocker interference detected!
Wikia is a free-to-use site that makes money from advertising. We have a modified experience for viewers using ad blockers

Wikia is not accessible if you've made further modifications. Remove the custom ad blocker rule(s) and the page will load as expected.