Tight-Lipped
is a
City Quest
that is part of the
Evening the Score
storyline.
---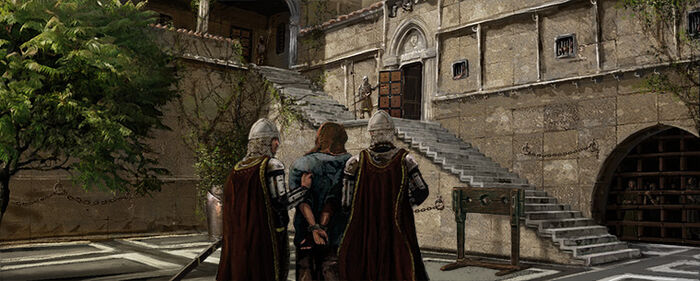 Story
Tight-Lipped
Two of your guards drop a man in shackles before you. "Said his name was Jorik. We can get nothing more out of him, my [lady/lord]."
Characters
Rewards

+100-250
Options
Sworn Sword Actions
None
Results

Jorik looks unimpressed as your guards return him to his cell. Rona Grey steps forward. "I will learn what I can of this man, my [lady/lord]."


Jorik makes no move to protest or fight your guards as they drag him off. Maester Lucas steps forward. "Perhaps you'd like to supervise, my [lady/lord]?"

Ad blocker interference detected!
Wikia is a free-to-use site that makes money from advertising. We have a modified experience for viewers using ad blockers

Wikia is not accessible if you've made further modifications. Remove the custom ad blocker rule(s) and the page will load as expected.