Thundering Pursuit
is a
Boss Challenge
that is part of the
A Mind of Her Own
storyline.
---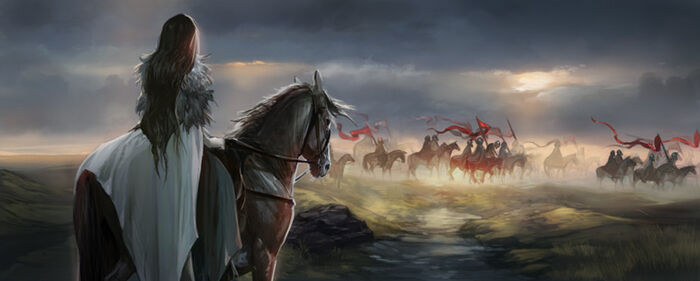 You and Ser Hugo lead two dozen men on horseback in a race to catch up with your daughter before her pursuers do.
Characters
Rewards
Initiation
Prize
Coin
200 - 300
Participation
Prize
Coin
100 - 200
Ranking
| | |
| --- | --- |
| 1st Place | |
| 2nd Place | |
| 3rd Place | |
Challenge
Part 1: Search
"The ground here is rocky," growls Ser Hugo. "Tracks won't be easy to spot." He looks at you. "But we'll find them."
| | | |
| --- | --- | --- |
| Aid | Spy | Bribe |
| Spread Out and Search | Scout Ahead | Use Hired Trackers |
You're east enough to leave the rocky ground behind. "Soft terrain," grins Ser Hugo. "Tracks here are clear as day."
Part 2: Attack
Ser Hugo spots the riders first. "We hit them fast and hard. Give them no time to regroup. My [lord/lady]? We attack on your order."
Ser Hugo cleans his sword on a dead man's tunic. "Unarmored to ride faster," he says. "Didn't help them in the end."
Part 3: Protect
You see Jayne on her horse Ebony, riding as fast as she can. Her pursuer, a one-eared man with a nasty looking blade, gains on her.
Jayne's horse Ebony and the one-eared man's horse tire after such protracted pursuit. You and your forces close in.
Result
Your men close in on Jayne and her last pursuer. He leaps and pulls Jayne from Ebony. They tumble to the ground as you ride up.

Required Points: 7,500
Ad blocker interference detected!
Wikia is a free-to-use site that makes money from advertising. We have a modified experience for viewers using ad blockers

Wikia is not accessible if you've made further modifications. Remove the custom ad blocker rule(s) and the page will load as expected.