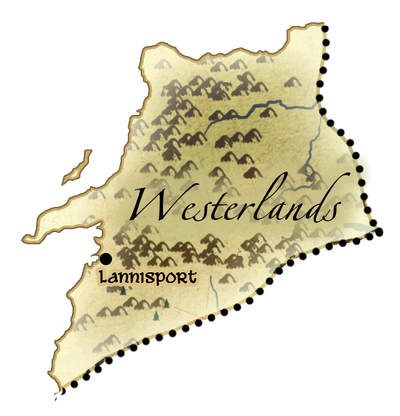 Home of
House Lannister
,
The Westerlands
is one of the regions of the Seven Kingdoms, ruled from the castle of Casterly Rock.
This regions is immensely rich in natural resources, particularly metals. Predominantly mountainous, the hills of the Westerlands are riddled with veins of gold and silver, the mining of which has made the Lannisters and their bannermen rich. The Lannister armies are the best-equipped in the realm, with heavily-armored soldiers and cavalry.
Adventures & Camps

Landmarks
Places
Roads
Settlements
Holdings
Pages in category "The Westerlands"
Ad blocker interference detected!
Wikia is a free-to-use site that makes money from advertising. We have a modified experience for viewers using ad blockers

Wikia is not accessible if you've made further modifications. Remove the custom ad blocker rule(s) and the page will load as expected.