This page is for the Alliance. For other uses of Unsullied, see Unsullied (Disambiguation).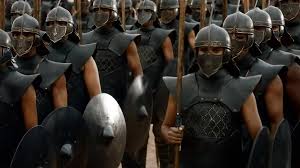 A Targaryen Fealty Alliance. 
Benefits
Friends only membership requirements no minimum levels, rookies and beginners more than welcome as training and advice are available from the more Experienced members
Friending one of the officers or leader is a requirement.
Expectations
There is no required donations or contributions. This may change in the future but at this current time we do not expect anything other than you to enjoy the game learn and grow.
Leadership
Leader:
Grey Worm
Officers:
Malzandra
Ava Leya
Tarril Nightstrider
Tyberius Tyrone
Disturbia Integria
Tarnweig
Awards
How to Join
Ad blocker interference detected!
Wikia is a free-to-use site that makes money from advertising. We have a modified experience for viewers using ad blockers

Wikia is not accessible if you've made further modifications. Remove the custom ad blocker rule(s) and the page will load as expected.