The Tipping Point
is a
Boss Challenge
that is part of the
Masque and the Wine Festival
storyline.
---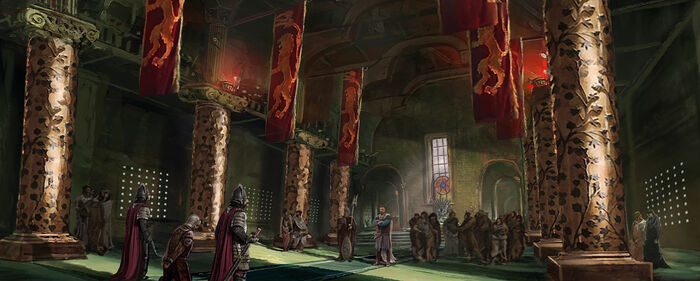 Your sworn sword blows a horn, and shouts, "These proceedings are at an end, good guests," but is promptly ignored.
Characters
Rewards
Initiation
Prize
Coin
200 - 300
Participation
Prize
Coin
100 - 200
Ranking
| | |
| --- | --- |
| 1st Place | |
| 2nd Place | |
| 3rd Place | |
Challenge
Part 1: Clear the Courtyard
Simon Groat nods to the master-at-arms, and your guards begin moving into the keep courtyard, pushing against the drunken crowds.
You have pushed the drunken guests out of the courtyard, at last.
Part 2: Clear Outer Bailey
With the courtyard clear, [Your Sworn Sword] proceeds to the outer bailey with the guards.
Your guards successfully move the drunken minor nobles and gentry out through the portcullis.
Part 3: Clear the Tilting Yard
Keep and Castle now secure, it is time to clear the party from the outer grounds. [Your Sworn Sword] orders the tilting yard cleared.
[Your Sworn Sword] and your guards have driven away the drunken peasants on the jousting field.
Result
Your guards' skirmish line, led by [Your Sworn Sword], has pushed the last of the drunken miscreants off your holdings.

Required Points: 74,700
Ad blocker interference detected!
Wikia is a free-to-use site that makes money from advertising. We have a modified experience for viewers using ad blockers

Wikia is not accessible if you've made further modifications. Remove the custom ad blocker rule(s) and the page will load as expected.