The Snow Bear
is a
Boss Challenge
that is part of the
Long Live the Hand
storyline.
---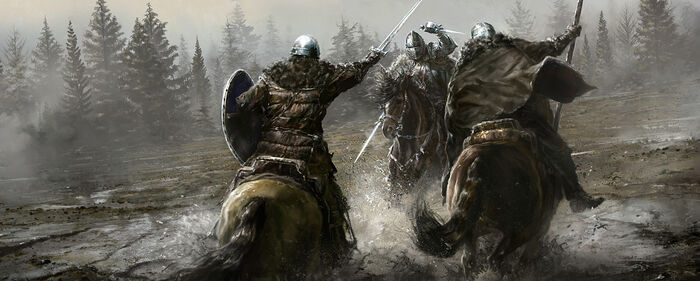 Characters
Rewards
Initiation
Prize
Coin
200 - 300
Participation
Prize
Coin
100 - 200
Ranking
| | |
| --- | --- |
| 1st Place | |
| 2nd Place | |
| 3rd Place | |
Challenge
Part 1: Stop the Charge
"He'll flatten us both," Robb warns. "We must slow him down! Do whatever you can to stop his charge!"
The snow bear veers off at the last moment, charge broken. "Yes!" Robb yells, triumphant.
Part 2: Distract and Attack
The snow bear advances again, growling. "One of us distracts him, one attacks," Robb instructs, voice shaking but sword held up.
Confused and wounded, the bear sways in place, not sure where all the attacks came from.
Part 3: Finish Him
"We've almost got him," Robb shouts as the snow bear's hide glistens wet with blood. "Finish him off! We'll have quite a trophy!"
The immense beast lurches and falls over, the combined attack killing it. It gives a last growl and is silent.
Result
The immense snow bear lies dead on the ground, dwarfing Robb, who bends panting next to it. "You saved my life back there."

Required Points: 600
Ad blocker interference detected!
Wikia is a free-to-use site that makes money from advertising. We have a modified experience for viewers using ad blockers

Wikia is not accessible if you've made further modifications. Remove the custom ad blocker rule(s) and the page will load as expected.