The Slaver's Screams
is a
Boss Challenge
that is part of the
Evening the Score
storyline.
---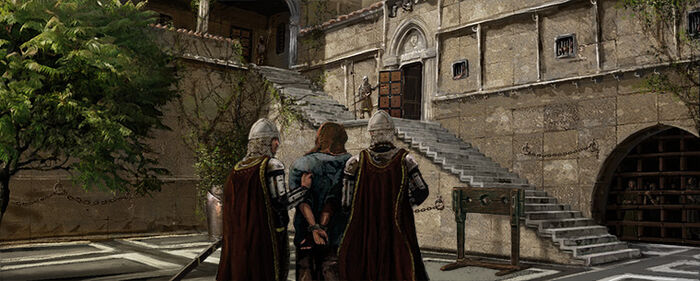 Jorik is dragged down to your dungeon. The many implements at the butcher's disposal glint in the torchlight.
Characters
Rewards
Initiation
Prize
Coin
200 - 300
Participation
Prize
Coin
100 - 200
Ranking
| | |
| --- | --- |
| 1st Place | |
| 2nd Place | |
| 3rd Place | |
Challenge
Part 1: Browbeating
[Your Sworn Sword] steps forward and cuffs Jorik across the face. The other guards cheer on the beating.
Jorik is a mess of bumps and bruises, but still refuses to talk.
Part 2: Spilt Blood
The butchers reaches for the first of his tools and makes sure it is sharp. Jorik the Slaver does not flinch.
Though Jorik is bleeding like a stuck pig, he still refuses to speak.
Part 3: No Secrets
The butcher reaches for a small knife. "Used to know House Bolton's butcher," he says. "Learned a few things..."
The skin has been flayed from parts of Jorik's body. But will he talk?
Result
"Enough!" Your butcher steps back. Jorik is pale and trembling. "I'll talk, please, no more!"

Required Points: 96,000
Ad blocker interference detected!
Wikia is a free-to-use site that makes money from advertising. We have a modified experience for viewers using ad blockers

Wikia is not accessible if you've made further modifications. Remove the custom ad blocker rule(s) and the page will load as expected.