The Red Wedding
is a
Boss Challenge
that is part of the
A Wedding at the Twins
storyline.
---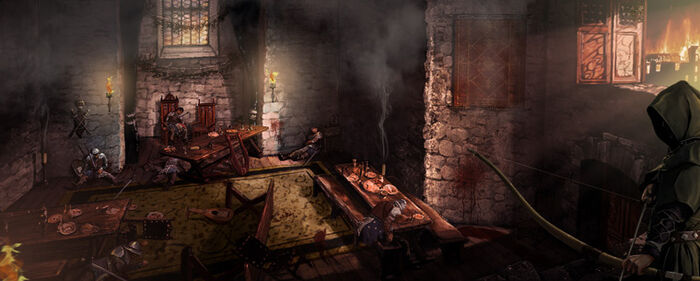 Characters
Rewards
Initiation
Prize
Coin
200 - 300
Participation
Prize
Coin
100 - 200
Ranking
| | |
| --- | --- |
| 1st Place | |
| 2nd Place | |
| 3rd Place | |
Challenge
Part 1: The Queen
Talisa lies pale and bleeding on the floor. The Freys and Boltons turn their attention to Robb...
Part 2: The King
Before Robb can reach Talisa, an arrow flies through the air, piercing his body. Lady Catelyn screams.
Both the Young Wolf and his wife are bleeding heavily. Catelyn Stark struggles on the floor.
Part 3: The Mother
The Freys and Boltons are making quick work of any guests still breathing. Catelyn grabs Walder Frey's wife, and begs for her son.
| | | |
| --- | --- | --- |
| Aid | Spy | Bribe |
| Look for Survivors | Try to Escape | Offer Frey Anything |
Lord Walder Frey shows no concern for his terrified wife, and no inclination to show mercy.
Result
With a whisper of regards from House Lannister, Roose Bolton kills Robb Stark. A moment later, Lady Catelyn is dead too. 

Required Points: 56,250
Ad blocker interference detected!
Wikia is a free-to-use site that makes money from advertising. We have a modified experience for viewers using ad blockers

Wikia is not accessible if you've made further modifications. Remove the custom ad blocker rule(s) and the page will load as expected.