The Queen's Secret
is a
Sworn Sword Quest
that is part of the
Surprises on the Road
storyline.
---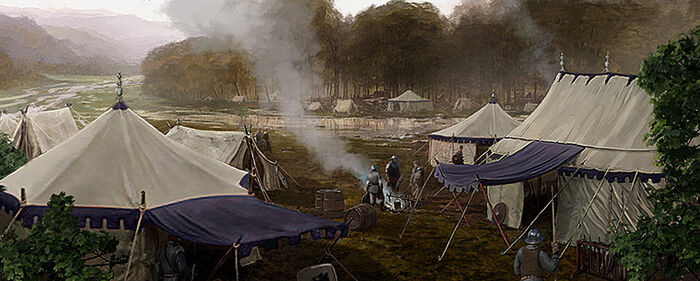 Story
The Queen's Secret
That night, Kirth is approached by Talisa, Robb Stark's wife. "Minstrel, I need someone to gather these herbs and bring them back to me--no one else."
Characters
Options
All Alignment Quests
Whichever option you select, the following
Sworn Sword Quest
will activate:
Actions
Success
With Kirth's help, [Your Sword Sword] is able to gather herbs and return them to Talisa whout anyone at camp noticing. The queen smiles. "Tell no one."
Failure
Despite Kirth's best efforts, [Your Sworn Sword] is noticed sneaking off and returning with herbs for the queen. Whispers fly throught the camp. (+1 Wound, Must Retry)
Ad blocker interference detected!
Wikia is a free-to-use site that makes money from advertising. We have a modified experience for viewers using ad blockers

Wikia is not accessible if you've made further modifications. Remove the custom ad blocker rule(s) and the page will load as expected.