The Owl Takes Flight
is a
Sworn Sword Quest
that is part of the
Spy in the Shadows
storyline.
---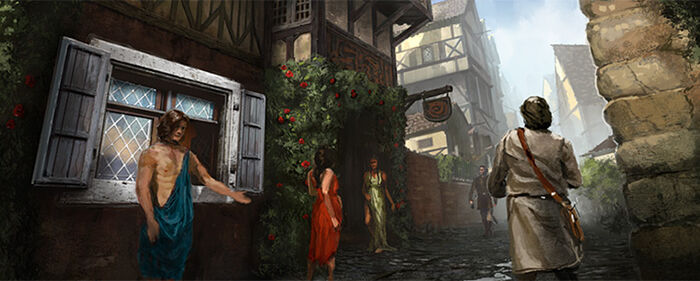 Story
The Owl Takes Flight
"We've found the spy, my [lord/lady]. Her name is Myra, a lovely prostitute operating secretly as the 'Owl.' When cornered for capture, she...she f-fled."
Characters
Options
All Alignment Quest
Whichever option you select, the following Sworn Sword Quest will activate.



Actions
Success

Your sworn sword chased Myra on horseback and ran down the spy before she escaped into the wilderness. She surrendered, but refused to say a word.

Your sworn sword ordered guards to block the roads. When Myra spotted the checkpoints, she ran for the wilderness and was quickly captured.


Your sworn sword picked up Myra's trail and followed her to a meeting place in the wilderness. Though Myra was easily captured, her master never showed.


Your sworn sword set a trap by leaving a broken supply caravan on the open roads. Myra arrived after several hours to gather food and was quickly captured.


Your sworn sword locked away the prostitutes Myra once called friends. When she heard news of this injustice, Myra surrendered in exchange for their freedom.


Your sworn sword paid a hungry prostitute who revealed where Myra's hiding place rested in the wilderness. By morning, the "Owl" had been captured.

Failure
The 'Owl' proved far too swift-footed for [Your Sworn Sword].  Perhaps another attempt to apprehend the spy? (Must Retry; +1 Wound)
Ad blocker interference detected!
Wikia is a free-to-use site that makes money from advertising. We have a modified experience for viewers using ad blockers

Wikia is not accessible if you've made further modifications. Remove the custom ad blocker rule(s) and the page will load as expected.