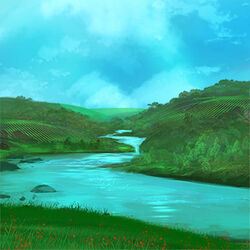 The river Mander is the largest river in the Reach. It is a powerful, slow-moving river, wide with snags and sandbars to trap the unwary ship. Settlements along the Mander include Tumbleton, Bitterbridge, Longtable, Cider Hall and Highgarden. The upper reaches of the Mander are muddy and rough and as they near Highgarden, they settle down and become clear and calm.
Adventures at the ManderEdit

Settle Land Dispute


Secure River Defenses


Repair Damaged Floodworks (Day)


Buy Seed and Livestock (Day)

Examine Blighted Wheat
LandmarksEdit
Ad blocker interference detected!
Wikia is a free-to-use site that makes money from advertising. We have a modified experience for viewers using ad blockers

Wikia is not accessible if you've made further modifications. Remove the custom ad blocker rule(s) and the page will load as expected.