The Last Battle
is a
Boss Challenge
that is part of the
For (Your House)
storyline.
---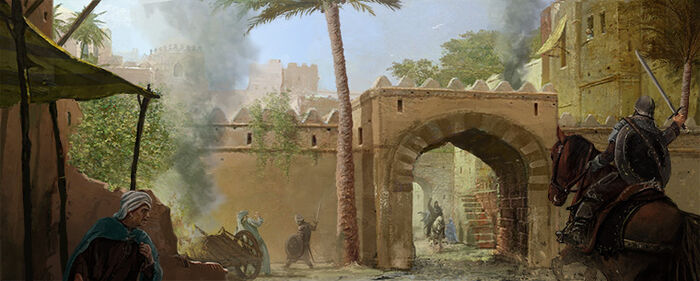 A [Your House] guard carries your banner proudly next to Ser Hugo, who leads them to the magister's home to begin the attack.
Characters
Rewards
Initiation
Prize
Coin
200 - 300
Participation
Prize
Coin
100 - 200
Ranking
| | |
| --- | --- |
| 1st Place | |
| 2nd Place | |
| 3rd Place | |
Challenge
Part 1: The Courtyard
Magister Abelar's home has a large, open courtyard filled with guards. Ser Hugo orders swords drawn, and charges.
A cheer goes up as the last guard falls. Ser Hugo and [Your Sworn Sword] look to the house itself...
Part 2: The Tower
All doors to the magister's home have been barred, though there is a tall tower with windows. Ser Hugo calls for rope and hook.
The [Your House] guards clamber up the tower and in through the windows. The magister's home is truly overrun now.
Part 3: The Halls
Ser Hugo and the [Your House] guards tear through the halls of the magister's home, killing guards and seeking the Silent Lady.
The magister's home is a chorus of death rattles. Is the battle won?
Result

Required Points: 131,400
Ad blocker interference detected!
Wikia is a free-to-use site that makes money from advertising. We have a modified experience for viewers using ad blockers

Wikia is not accessible if you've made further modifications. Remove the custom ad blocker rule(s) and the page will load as expected.