The King's Road
is a
City Quest
that is part of the
Jaws of the Beast
storyline.
---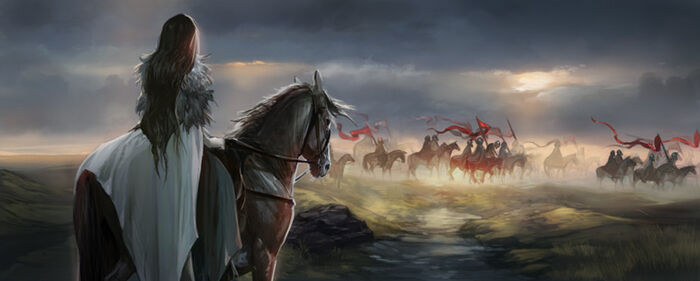 Story
The King's Road
As the King's entourage departs Darry, Kirth finds himself riding alongside Ser Barristan, who leads Joffrey's riderless horse. He seems troubled.
Characters
Rewards

+100-250
Options
Sworn Sword Actions
None
Results

"May the prince recover well," Kirth says carefully,"but my thoughts are also with Arya and Sansa." "Aye," says Barristan, but is otherwise silent on it.


Ser Barristan shakes his head. "You've a lot to learn about kings and power, and even more to learn about when to keep your mouth shut."


Ser Barristan kicks his horse to ride ahead and end the conversation, but as he rides by Kirth hears him mutter, "No arguments there."
Previous Quest
Storyline
Next Quest
Wolf Bets
Soothing a Pain - A Little Pain
Soothing a Pain - Cleaver
Lady
-
Jaws of the Beast - VI
-
Orders of the Hand
Ad blocker interference detected!
Wikia is a free-to-use site that makes money from advertising. We have a modified experience for viewers using ad blockers

Wikia is not accessible if you've made further modifications. Remove the custom ad blocker rule(s) and the page will load as expected.