The Hand of Justice
is a
City Quest
that is part of the
Hedge Knight
storyline.
---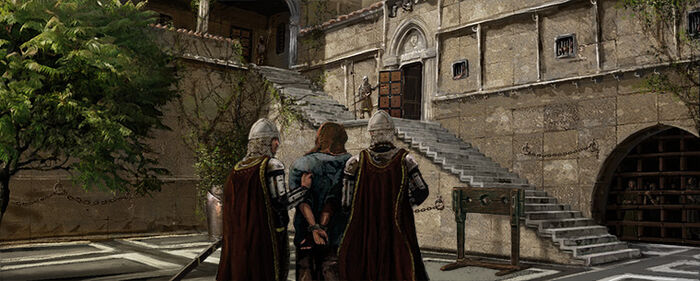 Story
The Hand of Justice
Ser Hugo returns with grief and anger on his face. Ser Medwyck is in chains. "We have him, my [lady/lord]. What would you have us do?"
Characters
Rewards

+100-250
Options
Sworn Sword Actions
None
Results

"As you wish, my [lady/lord]. I know the perfect cell...dank, dark and wholly uncomfortable."


Ser Hugo pales, but then nods obediently. "I will...question him, my [lady/lord]. We will know what he does."


Ser Hugo looks grim. "A wise decision, my [lady/lord], if...a hard one." The spy is beheaded in the morn.
Ad blocker interference detected!
Wikia is a free-to-use site that makes money from advertising. We have a modified experience for viewers using ad blockers

Wikia is not accessible if you've made further modifications. Remove the custom ad blocker rule(s) and the page will load as expected.