Were you looking for the chapter?

The Bear and the Maiden Fair (Boss Challenge)


The Bear and the Maiden Fair
is a
Boss Challenge
that is part of the
A Party at Harrenhal
storyline.
---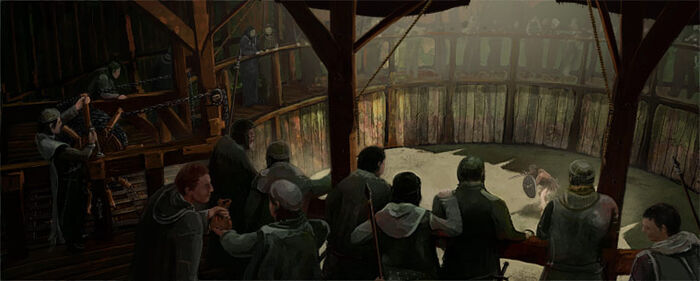 The Boltons crowd around the bear pit. There is a vicious beast--and Brienne of Tarth, with a wooden sword.
Characters
Rewards
Initiation
Prize
Coin
200 - 300
Participation
Prize
Coin
100 - 200
Ranking
| | |
| --- | --- |
| 1st Place | |
| 2nd Place | |
| 3rd Place | |
Challenge
Part 1: The Bait
"Oh, sweet she was, and pure and fair!" the Boltons sing. "The maid with the honey in her hair..."
Brienne screams when the bear claws her. The fight will not end well...
Part 2: The Bear
Suddenly, Jaime Lannister elbows his way in. [Your Sworn Sword] cannot hear his words, but sees the Kingslayer jump into the bear pit!
Jaime Lannister and Brienne of Tarth are pulled from the pit. But the fighting hasn't ended...
Part 3: The Lion
The Boltons are furious with Jaime for spoiling their fun. Harrenhal could quickly erupt into a riot if something isn't done...
The Boltons wanted their fun, but they also want their reward for Jaime. Will they let him go?
Result
Jaime Lannister and Brienne of Tarth leave Harrenhal. Disgusted, the Boltons toss a few dogs in with the bear instead.

Required Points: 45,450
Previous Quest
Storyline
Next Quest
A Sport Very Pleasant
A Friend in Need
Damsel in Distress
-
A Party at Harrenhal - III
-
From Here to There
Honey in Her Hair
On the Summer Air
Ad blocker interference detected!
Wikia is a free-to-use site that makes money from advertising. We have a modified experience for viewers using ad blockers

Wikia is not accessible if you've made further modifications. Remove the custom ad blocker rule(s) and the page will load as expected.