Sweet Summer Child
is a
Boss Challenge
that is part of the
Warg in Wolf's Clothing
storyline.
---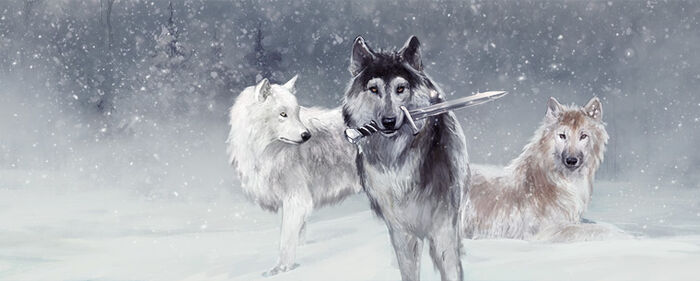 Rewards
Initiation
Prize
Coin
200 - 300
Participation
Prize
Coin
100 - 200
Ranking
| | |
| --- | --- |
| 1st Place | |
| 2nd Place | |
| 3rd Place | |
Characters
Challenge
Part 1: The Huntress
A female wolf, sleek and polished, sidles up to the shaggy one. "My name's Meera. I'm Jojen's sister and I can hunt too."
Meera drops several rabbits in front of the lame wolf. The shaggy female snaps at her and stalks away.
Part 2: The Greenseer
A wolf with glowing green eyes approaches. "A warg? What's that?" the lame wolf asks the green-eyed wolf grins. "We are."
| | | |
| --- | --- | --- |
| Aid | Spy | Bribe |
| Lead to Godswood | Stalk Greenseer | Offer Food |
The green-eyed wolf nods at the lame one. "They aren't dreams. They're the truth."
Part 3: The Hodor
The lame wolf dreams. His eyes open now and then, shining green. A large wolf paces nervously over him, repeating, "Hodor?"
The lame wolf wakes suddenly. He nods at the large one, who sighs happily. "Hodor."
Result
The air grows cold again. Gammer thinks she can see another wolf in the distance, white against the snow. She follows it...

Required Points: 18,450
Ad blocker interference detected!
Wikia is a free-to-use site that makes money from advertising. We have a modified experience for viewers using ad blockers

Wikia is not accessible if you've made further modifications. Remove the custom ad blocker rule(s) and the page will load as expected.