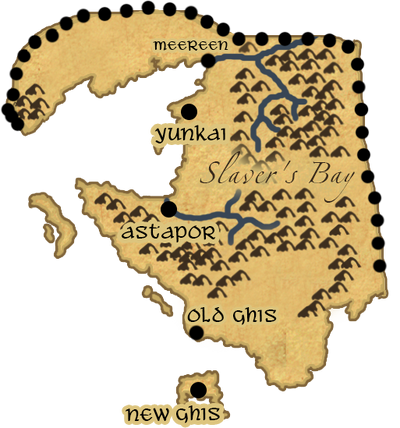 Slaver's Bay is a cultural and geographical region in
Essos
. Built from the ashes of the ancient
Ghiscari Empire
, Slaver's Bay became a wealthy hub of the global slave trade. It flows into
the Gulf of Grief
.
The Ghiscari Empire fell over 5,000 years ago after warring with the city of Valyria, losing a series of five wars with Valyria before toppling. Despite its wealth and nearly invincible legions, Ghis could not stand against Valyria's ultimate weapon, dragons.
The surviving populations of the Empire rebuilt the area from the wreckage. Three major cities rose into prominence: Astapor, Yunkai and Meereen. These cities established themselves as a hub of the global slave trade and became extremely wealthy.

Featured In

The Battle of Yunkai


City of Slaves


Valyria Reborn


The Dragon Ponders


The Fighting Pits of Astapor


Law of the Masters


Sons of the Harpy

Slaver's Bay Race


Slaver's Bay Tale

Landmarks
Places
The Slaver Cities
| | |
| --- | --- |
| Astapor | Astapor was famed as the only place in the world that the Unsullied Army can be purchased. These slave soldiers commanded a huge investment and earned the most profitable of returns for the city. The city itself was ancient and dilapidated, built from crumbling red bricks that are said to be colored by the slaves that died laying them. The city is dominated by massive stepped pyramids, some four hundred feet high, that line the waterfront of the bay. During the midday heat, the brick streets can become unbearably hot, making them largely deserted during the day. In the evenings, the slavers lit silk lanterns on every terrace and played soft music as they sailed on their pleasure barges. |
| Meereen | The largest of the three slaver cities, Meereen has a population equaling Astapor and Yunkai combined. The city is constructed with similar architecture to its neighbors, but built in bricks of many different colors. Its landscape is dominated by a massive pyramid and a giant temple which is capped by a golden dome. Meereen is unique among the Ghiscari cities in that it is filled with many temples. |
| Yunkai | The smallest of the three cities, Yunkai was known for both its fighting pits and its pleasure houses, both of which turned out slaves at a brisk pace. The city is very similar to Astapor in architecture except for its smaller size and its use of yellow brick in its buildings instead of red. |
Bodies Of Water
The Coasts
Islands
Roads
Settlements
Ruins
Pages in category "Slaver's Bay"
Ad blocker interference detected!
Wikia is a free-to-use site that makes money from advertising. We have a modified experience for viewers using ad blockers

Wikia is not accessible if you've made further modifications. Remove the custom ad blocker rule(s) and the page will load as expected.