Sisters of the Black Dread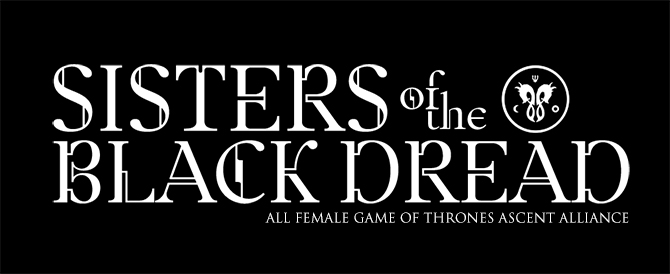 About
We were founded in July 2013 to support female players of Game of Thrones Ascent. Like the women of A Song of Ice and Fire, our members display many different kinds of strengths.
Gameplay
*Alliance challenges are run frequently and set up so that everyone gets a chance at top prizes.
*Our Facebook group contains a wealth of resources to benefit new and old players of the game alike.
*There is always a barter list on the Message of the Day, so that lower level players can easily build up their character.
Diplomacy
Our Facebook diplomacy page can be found here.
High Council
Becoming A Member
Sisters of the Black Dread accept players of all fealties, reincarnating and not. Membership applications can be submitted through this questionnaire.
Alliance versus Alliance
Wins
Harvest Phase - Diplomatic Victory
Placements
Hunter Phase - #5 in the Westerlands
Ad blocker interference detected!
Wikia is a free-to-use site that makes money from advertising. We have a modified experience for viewers using ad blockers

Wikia is not accessible if you've made further modifications. Remove the custom ad blocker rule(s) and the page will load as expected.