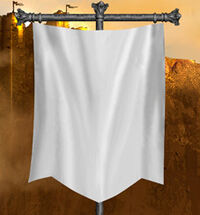 Ser Mandon Moore



Ser Mandon Moore is a knight of the Kingsguard. He is described as a skilled warrior, but is not loved by the smallfolk despite his prowess, nor is he close to any of his fellow members of the Kingsguard.In the screen he is played by James Doran.
He came from the Vale of Arryn and was brought to King's Landing by Jon Arryn,first hand of Robert. King Robert I Baratheon made him a member of the Kingsguard. Neither of them have much appreciation for him.He was a member of the noble House Moore.
During the Battle of the Blackwater,Ser Mandon attempts to kill Tyrion Lannister causing him an injure in his face.At the end Podrick saved The Imp's life pushing Ser Mandon into the Blackwater Rush.Despite his death on the Blackwater has yet to be recorded on the White Book of the Kingsguard.
Featured In
Ad blocker interference detected!
Wikia is a free-to-use site that makes money from advertising. We have a modified experience for viewers using ad blockers

Wikia is not accessible if you've made further modifications. Remove the custom ad blocker rule(s) and the page will load as expected.