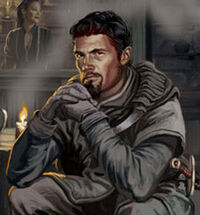 Ser Hugo Flint


Ser Hugo Flint is one of the Major Characters that will join your household as an advisor. He pledged himself to your service for helping him avenge his wife, killed by the slavers, and thus, you cooperated with your quest. Ser Hugo starts as a Sworn Sword but becomes the Captain of the Guard for your House.

During quests Ser Hugo's advice is normally associated with the
Realm alignment
.
Ser Hugo Flint
This page contains detailed information about Ser Hugo Flint as obtained and inferred through quests. It is organized by volume, and the quest(s) where the information was obtained is linked. If the quest was fealty-specific, that is noted as well.
Feel free to add new information as you find it!
If you have not played through all of the volumes, this post will contain spoilers.

Prologue


Volume I


Volume II


Volume III


Volume You

Volume IV

Forging Bonds


Volume V


Breaking Ties

Ser Hugo Flint is not featured in this volume.

Other Quests

Featured In
Ad blocker interference detected!
Wikia is a free-to-use site that makes money from advertising. We have a modified experience for viewers using ad blockers

Wikia is not accessible if you've made further modifications. Remove the custom ad blocker rule(s) and the page will load as expected.