Ser Dwyer's Threat
is a
City Quest
that is part of the
A Jackal in Our Grasp
storyline.
---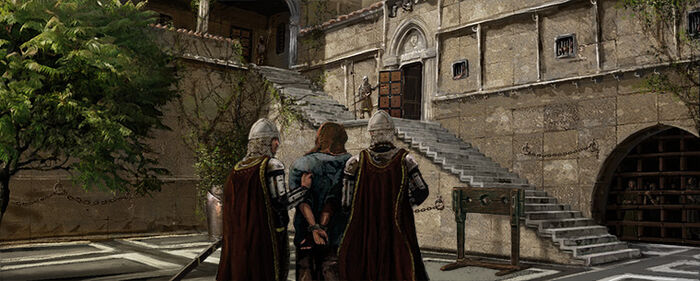 Story
Ser Dwyer's Threat
"My [lord/lady], our sworn sword has returned with Ser Dwyer, but the beatings have not done much to change his behavior. He still sneers at us."
Characters
Rewards

+100-250
Options
Sworn Sword Actions
None
Results

Maester Lucas returns, looking pensive. "As he was being released, Ser Dwyer vowed to address the "mortal insult" of being beaten in front of our smallfolk."


Maester Lucas seems pensive upon his return. "Ser Dwyer could barely stand when it ended, but he still vowed revenge against us as he was being released."


Maester Lucas returns, looking pensive. "As the smallfolk pelted him with offal, Ser Dwyer muttered oaths and curses against our house as he was led away."
Ad blocker interference detected!
Wikia is a free-to-use site that makes money from advertising. We have a modified experience for viewers using ad blockers

Wikia is not accessible if you've made further modifications. Remove the custom ad blocker rule(s) and the page will load as expected.