Ruining the Feast
is a
Boss Challenge
that is part of the
Ser Deityr's Ascendancy
storyline.
---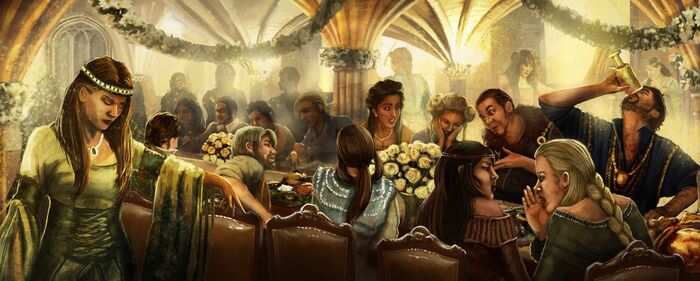 The nobles are seated, and proceeding through their courses. You signal your sworn sword to begin the sabotage in earnest.
Characters
Rewards
Initiation
Prize
Coin
200 - 300
Participation
Prize
Coin
100 - 200
Ranking
| | |
| --- | --- |
| 1st Place | |
| 2nd Place | |
| 3rd Place | |
Challenge
Part 1: First Course
Your sworn sword recedes into the Goldfoot kitchen and begins to serve the platters, while adding something nasty to each.
Several of the nobles seated at Lord Goldfoot's feast table begin to look mildly pained.
Part 2: Second Course
You have not heard or seen your sworn sword in some time, but the dishes keep arriving in the feast hall...
Some of the feast gusts are feeling sick to their stomach, and a bit dizzy.
Part 3: Third Course
You catch a glimpse of the sworn sword, as several nobles become noticeably ill. Ser Deityr looks confused by what is happening.
The feast guests are definitely looking green and about to become violently ill.
Result
Lord Deityr Goldfoot sits looking dumbfounded as the guests at the feast begin getting copiously sick at the table...

Required Points: 80,100
Ad blocker interference detected!
Wikia is a free-to-use site that makes money from advertising. We have a modified experience for viewers using ad blockers

Wikia is not accessible if you've made further modifications. Remove the custom ad blocker rule(s) and the page will load as expected.