Rotten Apple
is a
City Quest
that is part of the
Fair Trade
storyline.
---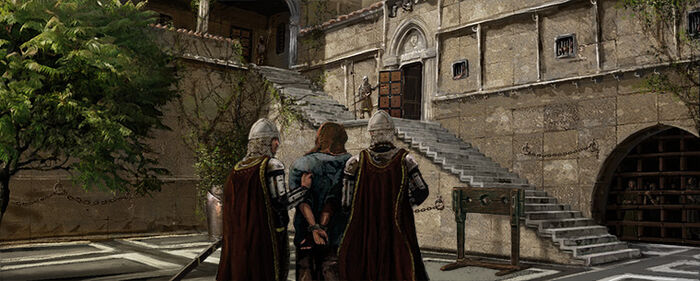 Story
Rotten Apple
Alvyn paces shakily. "M-my [lady/lord], the false weight scandal that nearly tore the hold asunder... I found the true culprit. Elyas of Oldtown. My son."
Characters
Rewards

+100-250
Options
Sworn Sword Actions
None
Results

 Alvyn clasps his hands together in gratitude. "Thank you, my [lady/lord]. Ser Hugo, come with me. I will direct your guards to my son's residence."
Previous Quest
Storyline
Next Quest
Spoiled Truth
Coin Before Commonwealth
-
Fair Trade - V
-
Public Justice
Behind Closed Doors
Ad blocker interference detected!
Wikia is a free-to-use site that makes money from advertising. We have a modified experience for viewers using ad blockers

Wikia is not accessible if you've made further modifications. Remove the custom ad blocker rule(s) and the page will load as expected.