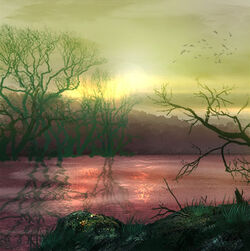 The Red Fork is most southern of the arms forming the river Trident, located in the Riverlands. It is wide and slow with loops and bends. The water carries mud and sand, making it appear red.
Adventures in the Red Fork regionEdit

Deal With Refugees

Close Vulnerable Fords

Rally Terrified Smallfolk

Bring Overdue Justice (Day)


Patrol the Trident
LandmarksEdit
Ad blocker interference detected!
Wikia is a free-to-use site that makes money from advertising. We have a modified experience for viewers using ad blockers

Wikia is not accessible if you've made further modifications. Remove the custom ad blocker rule(s) and the page will load as expected.