Of Wealth and Privilege
is a
City Quest
that is part of the
Lines of Justice
storyline.
---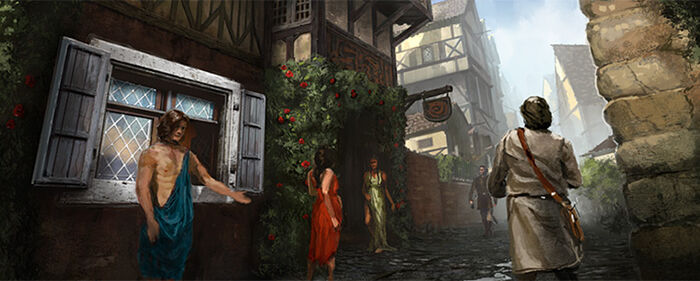 Story
Of Wealth and Privilege
"My [lord/lady], I give you Lord Cley," Groat presents a handsome man draped in ornate garb. "His family's dealings will bring great riches to your hold."
Characters
Rewards

+100-250
Options
Sworn Sword Actions
None
Results
Groat smiles as Carellen eyes Lord Cley. "Find me once you've gorged yourself," she tells him soothingly. "I know a woman who will provide your dessert."

Lord Cley bows respectfully, but Carellen cuts him off. "I'm spoken for," she says. "But I know a woman who will satisfy a gentleman of your tastes."


Carellen Swyft sizes up Lord Clay's wealthy form and smiles. "Come with me, my Lord. I know just the woman to satisfy a gentleman of your tastes."
Ad blocker interference detected!
Wikia is a free-to-use site that makes money from advertising. We have a modified experience for viewers using ad blockers

Wikia is not accessible if you've made further modifications. Remove the custom ad blocker rule(s) and the page will load as expected.