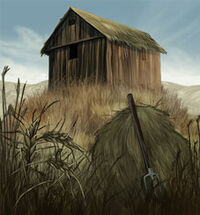 Marei Tarly


Marei Tarly is a friend of Kirth that lives and works a farm in the Riverlands.
A curiosity about this character is her surname Tarly which develops the possibility of being part of a lesser cadet branch of House Tarly(like Edd Tolett was being raised in conditions similar as the regular Smallfolk).
Still it doesn't make sense that Marei lives in the Riverlands so far of the influence of her supposed birth house.
Other possibility could be that this character's surname was randomly selected such as the Sworn Swords on the game.
On the books there is no mention of Marei as a member of House Tarly being an original creation of DB for the game.
Featured In
Ad blocker interference detected!
Wikia is a free-to-use site that makes money from advertising. We have a modified experience for viewers using ad blockers

Wikia is not accessible if you've made further modifications. Remove the custom ad blocker rule(s) and the page will load as expected.