Main Screen is the first screen (page), when you join the game.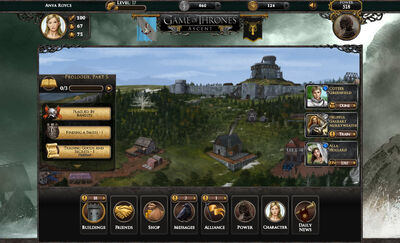 You can inform everything about the menu in this page. In main screen you can learn yourself, your lordship and your status. And there is a menu in bottom of screen. In menu, you can select a lot of things.
Top of Screen
Edit
In the top of screen;
Left: Character Name, Character Status
Middle: GoT:A logo, your banner and your lord's banner, your level, your silvers and your golds.
Right: Your power and sound.
Middle of Screen
Edit
In the middle of screen;
Left: Your volume, your chapter, your missions and your chapter guide.
Middle: Your castle/city/town (what do you want to say) map.
Right: Your sworn swords, adding a sworn sword.
Bottom of Screen
Edit
In the bottom of screen;
Left, middle and right: Your menu, Buildings, Friends, Shop, Character, Power, Messages, Alliance and Daily News in your menu.
Ad blocker interference detected!
Wikia is a free-to-use site that makes money from advertising. We have a modified experience for viewers using ad blockers

Wikia is not accessible if you've made further modifications. Remove the custom ad blocker rule(s) and the page will load as expected.