Were you looking for the Vol II quest?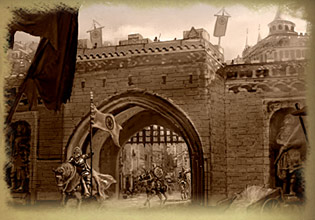 Long Live the King
The king must be obeyed, but which king? For good or for ill, you are bound to your Great House. Learn of its plans, and seek out future opportunity.
Goals
Complete "The Journey Home"
Glimpse the future plans of your Great House
Have a value of 100 in Battle, Intrigue, or Trade
Bonus Goals
Win 400 Adventures
Collect 50,000 total silver from the Counting House
Win 400 Player-to-Player encounters
(As of 28th July 2013 there is a glitch where only 10 adventures are needed instead of 400.) (This glitch no longer exists as of December 28, 2014.)
Rewards

Bonus
Obsidian Dagger
All Quests
Required Quests
These quests must be completed to progress to the next Chapter.
Other Quests
These quests are not necessarily required to complete the Chapter's goals, but may be available to do.
Their completion can sometimes be a prerequisite for a required quest or a goal in a future chapter.

While the Great Houses gather their armies, you must plot the future of your house.