Launcil's Skirmish
is a
Boss Challenge
that is part of the
Crisis of Faith
storyline.
---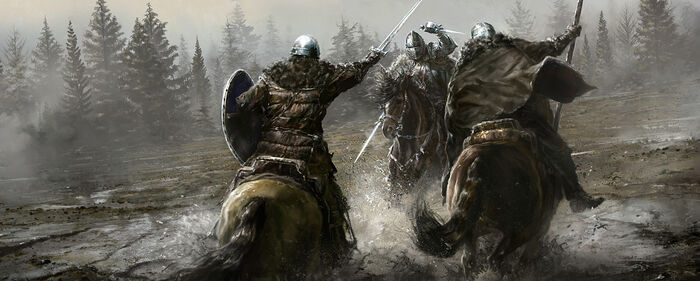 Launcil Hallar prepares his Brotherhood Without Banners fighters to resist your impressive array of forces.
Characters
Rewards
Initiation
Prize
Coin
200 - 300
Participation
Prize
Coin
100 - 200
Ranking
| | |
| --- | --- |
| 1st Place | |
| 2nd Place | |
| 3rd Place | |
Challenge
Part 1:Forest Donnybrook
Ser Launcil pulls his men back, but [your Sworn Sword's] forces stop them near an embankment inside the forest. Brutal fighting ensues.
Ser Launcil's men are routed, but attempt to rally around Agor Aulstyk.
Part 2: Duel at the Rocks
Ser Launcil's sellsword Agor Aulstyk defends a treacherous, rocky gully against [Your Sworn Sword].
Your sworn sword and guards have killed most of Ser Launcil's men, leaving the rest to flee.
Part 3: Footbridge Assault
Your sworn sword has slain Ago Aulstyk, and now confronts Ser Launcil himself on a shaky wooden footbridge over a roaring river.
Ser Launcil Hallar has been knocked off the footbridge, into the rushing waters.
Result
Launcil orders his remaining men to disperse, and spurs his horse to retreat. Septa Eleanor emerges shaken but unhurt.

Required Points: 63,900
Ad blocker interference detected!
Wikia is a free-to-use site that makes money from advertising. We have a modified experience for viewers using ad blockers

Wikia is not accessible if you've made further modifications. Remove the custom ad blocker rule(s) and the page will load as expected.