Intrigue at the Twins
is a
Boss Challenge
that is part of the
Your House Remembers
storyline.
---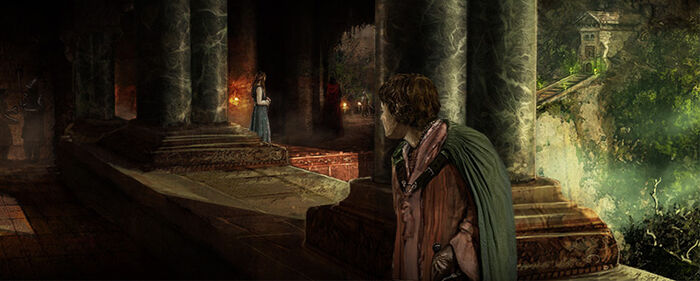 Your sworn sword prepares to approach the Twins. Kirth's body must be recovered without Walder Frey's notice.
Rewards
Initiation
Prize
Coin
200 - 300
Participation
Prize
Coin
100 - 200
Ranking
| | |
| --- | --- |
| 1st Place | |
| 2nd Place | |
| 3rd Place | |
Challenge
Part 1: West Tower
The Freys are on high alert for anyone seeking vengeance. But they are expecting armies, not [Your Sworn Sword].
Well fooled, the Freys allow [Your Sworn Sword] to pass through the West Tower and onto the bridge.
Part 2: Water Tower
The Frey soldiers stationed in the water tower know they are the last line of defense for the Lord of the Crossing. They frown.
Caught off guard, the Freys here also allow [Your Sworn Sword] to pass over the bridge.
Part 3: East Tower
Your sworn sword enters the East Tower, where Lord Walder Frey sits as Lord of the Crossing. Can Kirth's body be slipped out?
[Your Sworn Sword] has Kirth's body. Will Walder Frey allow it to leave?
Result
Passing through the West Tower portcullis, [Your SS] breathes a sigh of relief. It is time to head home with the grim prize.

Required Points: 54,000
Ad blocker interference detected!
Wikia is a free-to-use site that makes money from advertising. We have a modified experience for viewers using ad blockers

Wikia is not accessible if you've made further modifications. Remove the custom ad blocker rule(s) and the page will load as expected.