In the Eyes of the Seven
is a
Boss Challenge
that is part of the
A Marriage of Opposites
storyline.
---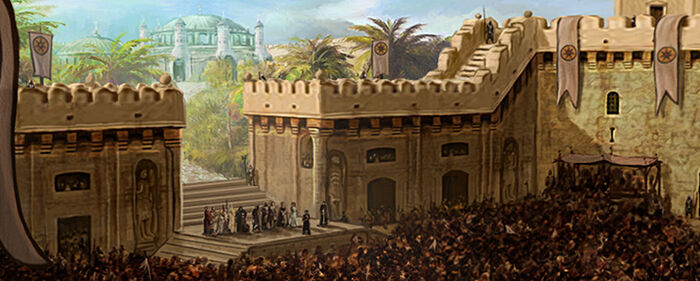 Tyrion Lannister stands at the altar with the septon. King Joffrey stands with Sansa Stark. The wedding is about to begin.
Characters
Rewards
Initiation
Prize
Coin
200 - 300
Participation
Prize
Coin
100 - 200
Ranking
| | |
| --- | --- |
| 1st Place | |
| 2nd Place | |
| 3rd Place | |
Challenge
Part 1: The Maiden
Sansa Stark looks pale as King Joffrey escorts her down the aisle. The courtiers are silent as the King passes.
Sansa has reached the altar. The High Septon opens his book and begins the ceremony.
Part 2: The Mother
As Tyrion readies the robe for Sansa's shoulders, King Joffrey removes the footstool placed upon the altar. Courtiers laugh.
Despite the laughter, Sansa and Tyrion maintain their composure, turning back to the septon.
Part 3: The Crone
The ceremony is complete. All Tyrion and Sansa need do is exit the sept without any more mishaps. Will the King allow it?
Afternoon sun streams into the Great Sept. What of the bride and groom?
Result
The wedding is over. Tyrion Lannister and Sansa Stark are bound in the eyes of the Seven forever. The Great Sept empties.

Required Points: 46,800
Previous Quest
Storyline
Next Quest
Whispers in the Gallery
A Lion in Red
A Wolf in White
-
A Marriage of Opposites - II
-
An Easy Target
An Easy Target
Baelor
Ad blocker interference detected!
Wikia is a free-to-use site that makes money from advertising. We have a modified experience for viewers using ad blockers

Wikia is not accessible if you've made further modifications. Remove the custom ad blocker rule(s) and the page will load as expected.