God of Flame and Shadow
is a
Boss Challenge
that is part of the
Ladies of Darkness and Light
storyline.
---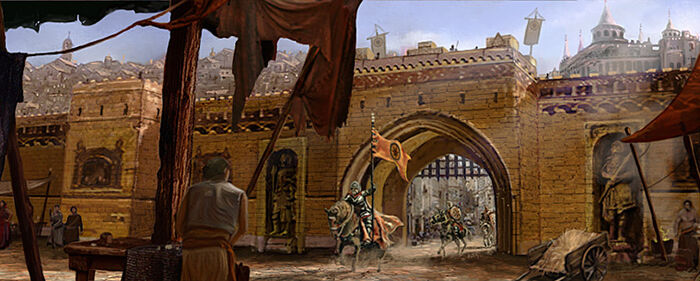 "I would know more about this Melisandre and her lord of light," Ser Hugo says to himself, searching King's Landing.
Characters
Rewards
Initiation
Prize
Coin
200 - 300
Participation
Prize
Coin
100 - 200
Ranking
| | |
| --- | --- |
| 1st Place | |
| 2nd Place | |
| 3rd Place | |
Challenge
Part 1: Whispers in the Street
Ser Hugo boldly walks the streets of King's Landing seeking information about R'hllor worshipers in the city...
"Should be right here," Ser Hugo says, searching the alleys for the right building...
Part 2: Lord of Light
"This is the place," Ser Hugo murmurs, looking at a nondescript building. There is a small sigil above the door-- a fiery heart.
"Nothing to win a war here," Ser Hugo says looking around the temple...
Part 3: Strange Miracles
Ser Hugo stares at a group of R'hllor worshipers, praying over the sick and wounded. Some of them are clearly beyond hope.
The dying men appear ready to take their last gasps. Ser Hugo watches in astonishment...
Result
Ser Hugo is shocked to see the wounded and dying healed. "This lord of light might be handy in a battle after all," he says.

Required Points: 31,500
Ad blocker interference detected!
Wikia is a free-to-use site that makes money from advertising. We have a modified experience for viewers using ad blockers

Wikia is not accessible if you've made further modifications. Remove the custom ad blocker rule(s) and the page will load as expected.