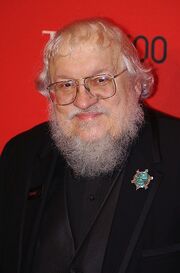 George Raymond Richard Martin (born George Raymond Martin; September 20, 1948), often referred to as GRRM, is an American novelist and short story writer in the fantasy, horror and fiction genres, and a screenwriter and television producer. He is best known for A Song of Ice and Fire, his international bestselling series of epic fantasy novels that HBO adapted for its dramatic series Game of Thrones. Martin serves as the series' co-executive producer, while also scripting one of each season's 10 episodes. Martin was selected by Time magazine as one of the "2011 Time 100", a list of the "most influential people in the world.
-- Quote from wikipedia.org
Ad blocker interference detected!
Wikia is a free-to-use site that makes money from advertising. We have a modified experience for viewers using ad blockers

Wikia is not accessible if you've made further modifications. Remove the custom ad blocker rule(s) and the page will load as expected.