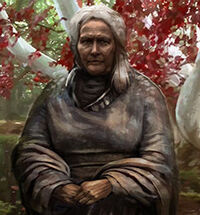 Gammer Wilde


Wise Woman of the Godswood. She has only the trees for company since her husband had killed their sons and has been executed for it. Followers of the New Ways tend to see her as mad, but you learn early that her gift of prophetic dreams should be taken seriously.

She will respond favourably whenever you make a decision that favours the
Old Ways
.
Gammer Wilde
This page contains detailed information about Gammer Wilde as obtained and inferred through quests. It is organized by volume, and the quest(s) where the information was obtained is linked. If the quest was fealty-specific, that is noted as well.
Feel free to add new information as you find it!
If you have not played through all of the volumes, this post will contain spoilers.

Prologue

Gammer Wilde is not featured in this volume.

Volume I


Volume II

No new information is obtained.

Volume III


Volume You

Volume IV
No new information is obtained.

Forging Bonds


Volume V

No new information is obtained.

Breaking Ties


Other Quests

No new information is obtained.
Featured In