For the Butcher's Boy
is a
Boss Challenge
that is part of the
Dreams Without Banners
storyline.
---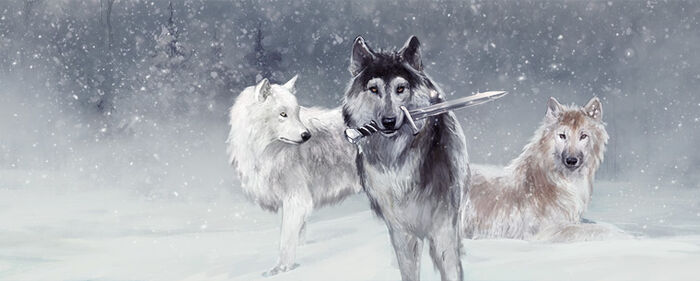 Gammer catches up with the brown wolves as they move through the woods. They drive the wolf with the sword to a large cave.
Characters
Rewards
Initiation
Prize
Coin
200 - 300
Participation
Prize
Coin
100 - 200
Ranking
| | |
| --- | --- |
| 1st Place | |
| 2nd Place | |
| 3rd Place | |
Challenge
Part 1: The Alpha
Upon entering the cave, a large brown wolf missing an eye approaches Arya. "Welcome, my lady. Beric Dondarrion."
"What are you going to do with the Hound?" the wolf with the sword asks, turning to look as he is brought in.
Part 2: The Beta
The Hound is dragged in, snapping and snarling at his captors. "He killed Mycah," the wolf with the sword says. "He should die."
| | | |
| --- | --- | --- |
| Aid | Spy | Swindle |
| Support Arya | Observe Reactions | Pretend to Want Mercy |
"I'm not my brother," the Hound growls, but the wolves only snap at him. Beric steps forward.
Part 3: The Omega
Beric walks in a slow circle around the Hound, then sits in front of him. "Only the Lord of Light can judge. We will fight."
The Hound snaps at Beric. "No contest. You'll lose your other eye." The wolves howl.
Result
As the wolves of the Brotherhood prepare for the fight, Gammer smells something back in the woods. She follows the scent...

Required Points: 26,550
Ad blocker interference detected!
Wikia is a free-to-use site that makes money from advertising. We have a modified experience for viewers using ad blockers

Wikia is not accessible if you've made further modifications. Remove the custom ad blocker rule(s) and the page will load as expected.