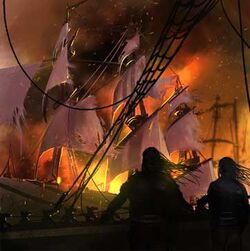 Flea Bottom is the poorest slum district in the city of King's Landing, located on the western side of Rhaenys' Hill. It is a maze-like warren of narrow streets, ramshackle buildings and dark alleys.
Adventures in Flea BottomEdit
Seeking a Lost Lady (Day)

Raid Brothel for Traitors

Feed Starving Smallfolk (Day)

Locate the Whisperer (Night)


Track Stolen Relics
LandmarksEdit
| | |
| --- | --- |
| Rhaenys' Hill | One of the three hills that dominate the city of King's Landing. Atop the hill lies the Dragonpit, a cavernous building that the Targaryens used to house their dragons within. |
Ad blocker interference detected!
Wikia is a free-to-use site that makes money from advertising. We have a modified experience for viewers using ad blockers

Wikia is not accessible if you've made further modifications. Remove the custom ad blocker rule(s) and the page will load as expected.