Enemy at the Gates
is a
Sworn Sword Quest
that is part of the
Battle of Roxton Keep
storyline.
---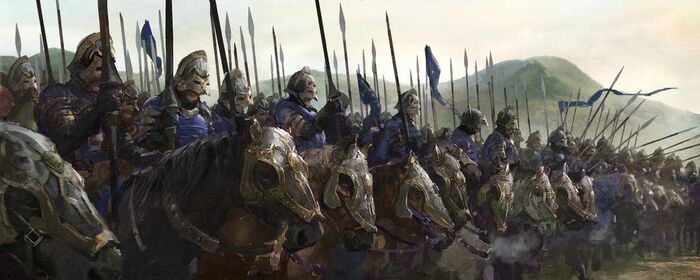 Story
Enemy at the Gates
"Roxton's troops have pushed up back to our own keep. We need to force him back onto his own lands. How will we join with our allies here?"
Characters
Options
All Alignment Quests
Whichever option you select, the following
Sworn Sword Quest
will activate:
Actions
Success

[Your Sworn Sword] fights fiercely with House [Your House] troops. Their might, combined with that of the Three, successfully drives Lord Roxton back to his keep.
The tactical support [Your Sworn Sword] provides enables the Three to drive Roxton's forces off of [Your House's] lands and all the way back to his keep.

A combination of arms and tactical support proves an excellent defense. [Your Sworn Sword], your troops and the Three drive Roxton's forces back to his keep.
Failure
Despite your instructions, [Your Sworn Sword] has failed. Lord Roxton's troops still surround [Your Hold] and are closing in... (Must Retry +1 Wound)
Ad blocker interference detected!
Wikia is a free-to-use site that makes money from advertising. We have a modified experience for viewers using ad blockers

Wikia is not accessible if you've made further modifications. Remove the custom ad blocker rule(s) and the page will load as expected.