Deal of a Lifetime
is an
Alliance Challenge
.
---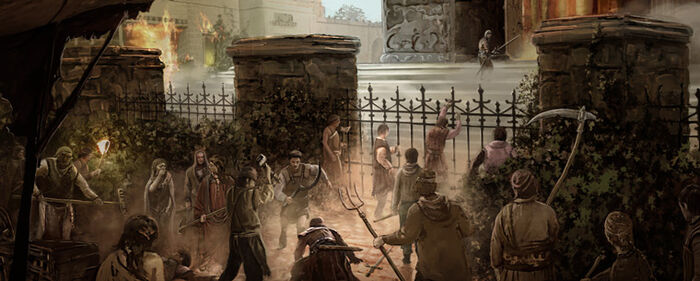 Without intervention, famine will hit [Your Home Region]. Only [Your Alliance Name] has the trade skills to resolve this crisis!
Quest Info
Recommended: 40+ Players, Level 100+
Time to Complete: 2 days
Required Materials

Trade Spoils from Current Phase
350
Rewards
Participation
Prize
Coin
500 - 700
Alliance Points
+1250 
Ranking
| | |
| --- | --- |
| 1st Place | |
| 2nd Place | |
| 3rd Place | |
Challenge
Part 1: Calm the Smallfolk
The starving smallfolk would riot, if they weren't crumbling from hunger. As it is, a single spark might foment rebellion...
The starving smallfolk quieted, [Your Alliance] turns its attention to the nobles...
Part 2: Speak to Nobles
Starvation is not an attractive prospect to anyone, hence the nobles keeping their meager stores of food close. Time to bargain...
The nobles have been swayed, and will help with coin or manpower if they can.
Part 3: Bread from Nowhere
All the coin and power in the Seven Kingdoms cannot conjure food from thin air. [Your Alliance] will have to find other means.
[Your Sworn Sword] has pulled every trick in the book. Will it be enough to feed the hungry?
Result
All are fed and peaceful in [Your Home Region]. [Your Alliance] is commended for their powers of negotiation.
Failure
Enter Failure Text here.
Required Points: 350,000 + 450,000 + 550,000 = 1,350,000
Ad blocker interference detected!
Wikia is a free-to-use site that makes money from advertising. We have a modified experience for viewers using ad blockers

Wikia is not accessible if you've made further modifications. Remove the custom ad blocker rule(s) and the page will load as expected.