Consigned to Fire and Sword


Consigned to Fire and Sword
is a
Boss Challenge
that is part of the
Dangerous Trade
storyline.
---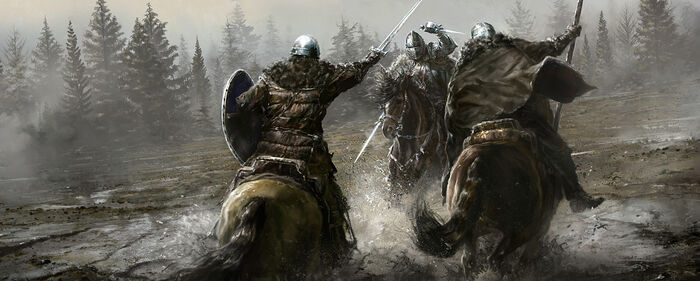 A nervous Merchants' Guild armsman spot your force approaching their stronghold and commands his rag-tag force to attack.
Rewards
Initiation
Prize
Coin
200 - 300
Participation
Prize
Coin
100 - 200
Ranking
| | |
| --- | --- |
| 1st Place | |
| 2nd Place | |
| 3rd Place | |
Challenge
Part 1: Marketplace Assault
As the denizens of the market scurry away, your troops storm into the marketplace with firebrands ready and weapons drawn.
The reflections of burning market stalls dance upon the puddles of blood in the streets.
Part 2: Palisade Charge
[Your SS]'s force press on through the rubble of the market square, falling upon the light garrison inside the wooden palisade.
The Merchants' Guild mercenaries flee as the broken wooden palisade is pulled down.
Part 3: Keep Assault
[Your Sworn Sword]'s men assemble a makeshift battering ram and begin smashing against the keep's portcullis.
Smoke and flame issue from the arrowslits of the keep, which is now in [Your Sworn Sword]'s control.
Result
The Merchants' Guild force breaks and ceases to exist. Your men sack and burn every building in the town. You've won!

Required Points: 120,600
Ad blocker interference detected!
Wikia is a free-to-use site that makes money from advertising. We have a modified experience for viewers using ad blockers

Wikia is not accessible if you've made further modifications. Remove the custom ad blocker rule(s) and the page will load as expected.