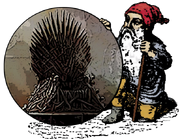 A Wiki Gnome is someone that works behind the scenes of a wiki, tying up little loose ends and making things run more smoothly. Examples of WikiGnome-like behavior include fixing typos, correcting poor grammar, creating redirects, adding categories, and repairing broken links.
These are also people that you can go to either in the Chat or via a message on their wall for help coding pages in this Wiki.
List of Wiki Gnomes
Pages in category "Wiki Gnomes"
Ad blocker interference detected!
Wikia is a free-to-use site that makes money from advertising. We have a modified experience for viewers using ad blockers

Wikia is not accessible if you've made further modifications. Remove the custom ad blocker rule(s) and the page will load as expected.