Blood from Stones
is a
City Quest
that is part of the
Bitter Ground
storyline.
---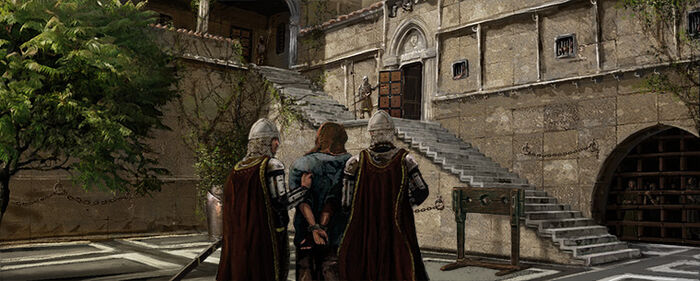 Story
Blood from Stones
"I have gathered the accounts from the most recent three harvests at Spillstones, my [lord/lady]. We can decide what forfeit is fair for the killings."
Characters
Rewards

+100-250
Options
Sworn Sword Actions
None
Results

Alvyn smiles and looks down at his hands, holding them still. "It is a sadness that death came to Spillstones, but we can look forward to better times."

Alvyn hands a page to Ser Hugo. Hugo reads it, nods, and says, "Lighter than I'd have chosen, my [lord/lady], but none will deny you are fair."

Groat says, "Careful, Avyn, you mustn't let every little thing surprise you. My [lord/lady], I have already drafted the order for your mark."
Ad blocker interference detected!
Wikia is a free-to-use site that makes money from advertising. We have a modified experience for viewers using ad blockers

Wikia is not accessible if you've made further modifications. Remove the custom ad blocker rule(s) and the page will load as expected.