Blood for Bread
is a
Boss Challenge
that is part of the
Duty, Honor, and a Gold Cloak
storyline.
---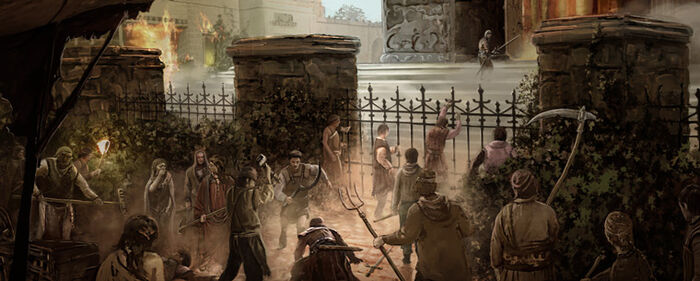 The hungry smallfolk cry out to King Joffrey, who eyes them with disdain. A bold boy throws dung from across the street...
Rewards
Initiation
Prize
Coin
200 - 300
Participation
Prize
Coin
100 - 200
Ranking
| | |
| --- | --- |
| 1st Place | |
| 2nd Place | |
| 3rd Place | |
Challenge
Part 1: Flying Debris
"Arrest them!" King Joffrey shouts. "Kill them all!" The crowd only shouts louder, raising their arms to throw...
Having lost their weapons, the crowd only grows angrier. The City Watch tries to push through...
Part 2: Enraged Crowds
The angry smallfolk press against the Gold Cloaks' shields, grabbing and tearing at the royal family. "Stay Back!" Ser Hugo roars.
Ser Hugo absorbs blows meant for the royal family. He is bleeding, but the Red Keep is in sight...
Part 3: To The Keep
The royal family is nearing the Red Keep, but the crowd has grown in size and strength. Will they survive the last leg?
"Close the gate!" Ser Hugo shouts. The heavy gate comes down, the royal family safe inside the Red Keep.
Result

Required Points: 34,500
Ad blocker interference detected!
Wikia is a free-to-use site that makes money from advertising. We have a modified experience for viewers using ad blockers

Wikia is not accessible if you've made further modifications. Remove the custom ad blocker rule(s) and the page will load as expected.